Welcome to the website of PROSELVA Peter Lindgren . Proselva is owned and run by myself, Peter Lindgren.
My main fields of work are:
Consultant - management and change
1.Development of training programs for managers and management teams (a combination of training personal managing skills and development of the participants´ own work).
2. Personal coaching for managers and employees.
3. Open Space Technology (Harrison Owen), Visioning and Dialogue.
These fields can be broken down into the following themes:
Work related management development programs - for managers and management teams (a combination of training personal managing skills and development of the participants´ own work). These programs are always developed together with the client and normally last for 9 - 12 months.
Team development for teams and especially management teams
Dialogue - as a strategic tool for better understanding and more efficient work (cooperation between unions and management)
Personal coaching - for managers (individuals and groups)
Appraisal talks training - for competence development and "management by objectives".
Life and career planning
Leadership and personal profiles (MBTI, Myers-Briggs Type Indicator for individual, group and organisational levels, FIRO-B, Fundamental Interpersonal Relations Orientation - Behaviour for individuals and groups.
Search conferences and Open Space Technology (for very large groups).
Consultation- and project work.
Lectures on Communication, Change and change management, Groups and group dynamics.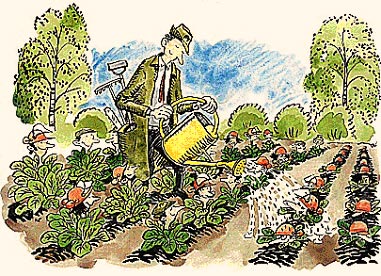 The true leader - "the boss as a gardner" needs to ask:
What do they need? What can I do to make them grow? Illustration: Nils Forshed
Working languages: Swedish, English and some Spanish.
Co-consultants in Sweden: Arbetskonsulter, Peter Larsson; Samtalsakademin Amfora , Marika Ronthy; Banbrytarna, Göran Wiklund.
Network in Europe, Latin America, Asia and the United States.
Some important clients
StoraEnso
Sandvik AB
The National Board of Forestry
KPA (fund managers)
The Forestry Research Institute
The Swedish Church
4. Production of slideshows and photograhpy
The slideshows are mainly about ethics of modern times, man, nature and the environment. The latest production which is available in English was produced for the Swedish Church - "Dreams of Reality".

Proselva has a large archive of photos from all over the world.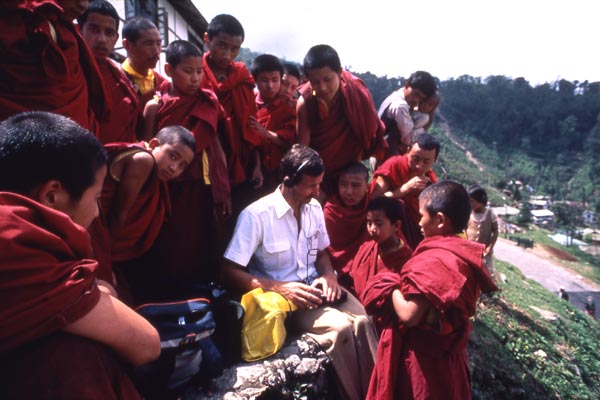 An Id-card

From the National Board of Forestry to the Professional Development Institute
Peter Lindgren was born in Stockholm, Sweden 1944. Is married and has a grown-up daughter. Took a Masters degree in Forestry 1968. First employed at the National Board of Forestry. Then he went to the Forestry Research Institute, editor, researcher, project manager and consultant. 1974 work in Costa Rica for FAO. Sales promotion and advertising manager at Jonsereds, Grapple Loader Division, 1975-78.

Worked in India as Development Advisior for Swedforest Consulting between 1983 and 1985. Some short- and longterm assignments in various tropical countries for BITS and ITTO (mainly on logging and tropical forestry). Consultant training in Belgium 1992 - 1993 at IOD, International Institute for Organisational and Social Development. Started his own company PROSELVA, 1994. 1996 certified in Group- and Psychodynamics at ProDev, Professional Development Institute, Belgium. Secretary for a consensus document on Swedish forestry sponsored by The Natural Step, 1997. Certified consultant in Total Quality Management 1998. During the last ten years, apart from Sweden, there have been assignments on management training in India, Vietnam and Brasil.
Some personal guidelines
To be a consultant takes certain stands. I believe that people grow best by working with peers in development of their own work. I believe that any person has the capacity to develop and can be responsible provided the circumstances are right. Work is meaningful and the art of leadership can be learned. The poem by Albert Camus mirror my philosophy and I hope it is guiding my work with people - as a consultant.
For change beyond the surface
PROSELVA
More than 30 years of experience in the field of developing people and work. In Sweden and internationally.
Address: Stora Morliden, S-599 92 Ödeshög, Sweden. Tel: Office +46-144-220 90
Mobile: +46-705-90 92 96. E-mail: peter.lindgren(at)proselva.se